GOSCOMVOYENPROM IS TO BE BROUGHT TO A NEXT DEVELOPMENT STAGE IN THE DEFENSE SPHERE
21.08.2018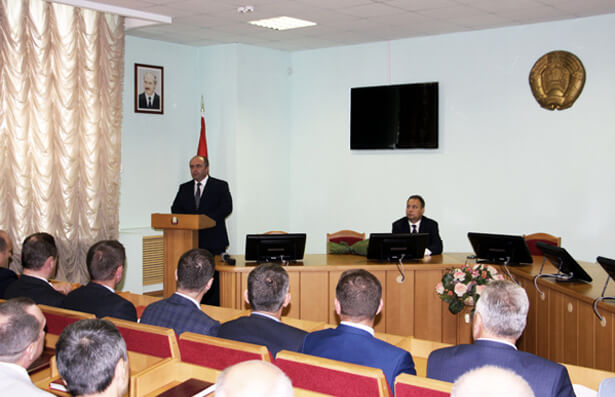 The State Military Industrial Committee is to be brought to a next development stage in the defense sphere. This was declared to the journalists by Goscomvoyenprom Chairman Roman Golovchenko, introduced by Deputy Prime Minister Igor Lyashenko to the agency staff.
Roman Golovchenko told about the tasks entrusted to him as the new Committee chief. "The main goal is to move to a next stage in the defense sphere – from the stage of stabilization, planning and development to creation of sophisticated armament and military equipment samples", he stressed. The range of finalized equipment samples manufactured in Belarus should be extended in order to ensure their application by the Armed Forces and to create the demand for them in the international market. Belarusian defense industry is already producing equipment with high added value, while the expenses are quite low. "The backbone of Goscomvoyenprom exports are highly intellectual electronic reconnaissance and electronic warfare systems. But today we realize that this will not move us further", Roman Golovchenko said. The range of products will be significantly extended, including through the use of combat weapons, etc.
According to Roman Golovchenko, the most careful attention will be paid to implementation of State Armament Program of the Republic of Belarus for 2016-2020, and state defense order for 2018, as well as to flagship projects that are in the development process.
During today's meeting with the Committee staff and chiefs of the companies, which are a part of it, new Goscomvoyenprom Chairman also spoke about the need to "enhance and strengthen the export vector". He promised to meet with the head of each Committee department, to study current state and to visit every enterprise, as well as to look into the tasks that are entrusted to the State Military Industrial Committee. Deputy Prime Minister Igor Lyashenko is also going to examine the situation in this field. He is planning to analyze general condition of manufacturing plants and to estimate the rate of sophisticated equipment in total revenue, as well as human resources capacity.