SFTUE "Belspetsvneshtechnika" is taking part in "Dubai Airshow-2021"
16.11.2021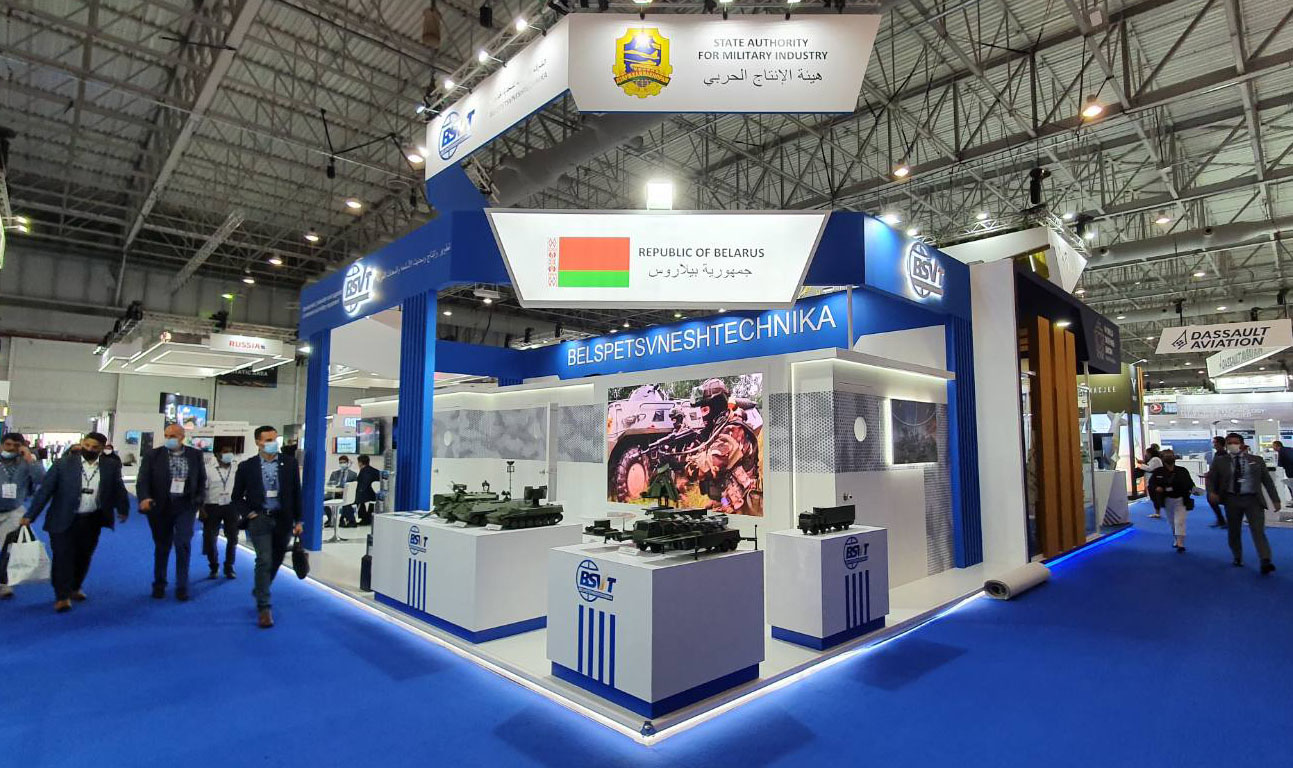 The 17th International Aerospace Exhibition "Dubai Airshow-2021" is being held in Dubai (United Arab Emirates) within November 14-18, 2021.
Dubai Airshow is a significant and prestigious international exhibition in the field of aircraft weapons, equipment and air defense systems. Dubai Airshow ranks third in the world (after the shows in Farnborough and Le Bourget) among aerospace exhibitions in terms of the number of participants and the volume of the contracts concluded. Official delegations from about 60 - 70 countries of the world visit Dubai Airshow and approximately 1200 companies showcase their products there.
SFTUE "Belspetsvneshtechnika" is taking part as the company which has arranged the joint booth of the State Authority for Military Industry where mock-ups of various products manufactured by defense companies, including: ADMS S-125-2BM "Pechora-2BM"; anti-aircraft self-propelled gun "Shilka"; ADMS "Trio"; grenade launcher "Sapphire"; all-purpose mobile control post; radar "Vostok-3D"; counter UAV EW system "Groza-S"; EW system "Groza-6".
In order to develop military-technical cooperation and support defense companies of the Republic of Belarus in promoting their products to the markets of the UAE and third countries, working meetings and negotiations were held between Mr. Dmitry Pantus, Minister of the State Authority for Military Industry of the Republic of Belarus, with high-rank officials of defense industry agencies of a number of foreign countries that arrived at the exhibition:
Minister of Defense of the Republic of Kazakhstan, Lieutenant General Murat Bektanov. The head of Kazakstani delegation visited the national booth of the Republic of Belarus, got familiarized with the presented products and expressed high opinion about the Belarusian exposition;
Minister of Defense Industry of the Republic of Azerbaijan, Mr. Madat Guliyev. The Parties discussed the current military-technical cooperation and the prospects for its development;
Governor of the General Authority for Military Industries of the Kingdom of Saudi Arabia, Ahmed Al Ohali,
General Director of International Golden Group (UAE), Mr. Fadel Al Kaabi;
Director of the Federal Service for Military-Technical Cooperation, Mr. Dmitry E. Shugaev, managers of JSC "Rosoboronexport" and JSC "National Aviation Service Company";
Minister of State for Defense of the UAE, Mr. Mohammed Ahmed Al Bowardi;
Chairman of the General Staff of Saudi Arabia, Maj. Gen. Fayyadh bin Hamed Al Ruwaili
The main subjects at the negotiations at Dubai Airshow-2021 are strengthening of international military-technical and economic cooperation and their further development in various fields.