Self-propelled Robotized System "Berserk" – participant of three parades
19.05.2020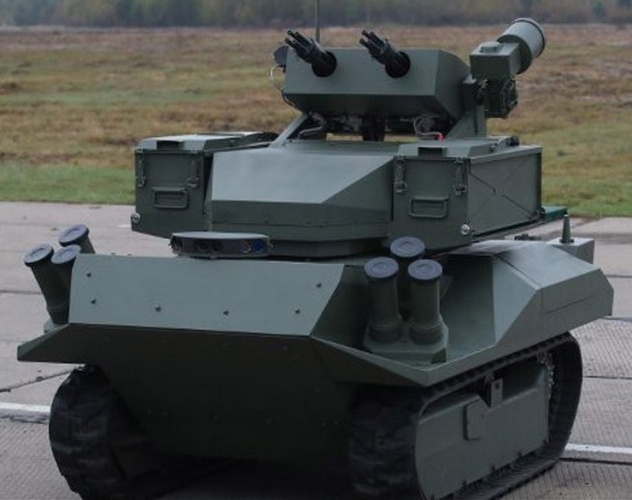 Self-propelled robotized system "Berserk" is armed with a twin four-barrel air machinegun GShG–7,62 and is intended to fight against land targets (personnel, ordinary and light-armored vehicles) and low-flying air platforms (helicopters, UAVs) within max 1000 m.
As the systems has a universal tracked chassis, it can easily move on different terrain because of low pressure on ground. When operating in a travel mode, self-propelled tracked chassis "Berserk" is working by a petrol generator, when in combat mode – by battery that makes it silent and invisible in IR band. The batteries allow "Berserk" to stay in active combat mode (move, target search and detection, firing) with uninterruptable movement for 1 hour, and in passive scanning mode – up to one day. Travelling distance by petrol generator is max 30 km.
Automatized workstation of "Berserk" operator provides remote control and combat operation via wireless link within 5000 m in case of LOS and up to 1000 m – in an urban area.
In order to move, "Berserk" has a video-vision system that provides for control in any time of day and night and enables 360 deg. surveillance over terrain.
The system is equipped with a modern optronic system and AI components, it can capture targets on its own within max 10 km and identify such targets.
Machinegun platform of the system can be fitted with optical aiming system and two twin air machineguns GShG-7,62 as well as all-round turret aiming about azimuth and from -5 to +50 deg aiming about elevation.
This combat robot becomes even more efficient, when used as a part of ALLIANCE C4I system.
For the first time, the capabilities of "Berserk" were presented to the President of the Republic of Belarus Alexander Lukashenko on October 5, 2018 at 174-th training range of AF and AD in Domanovo, as he was familiarizing with the capabilities of modern, perspective models of armament, military and special vehicles, developed and produced by the companies being a part of the State Authority for Military Industry and defense economic sector.
Robotized system "Berserk" took part in parades of Minsk garrison commemorating the Independence Day (3.07.2018), as well as 75-th anniversary of Belarus liberation from Nazi occupation (3.07.2019) and the Victory of Soviet people in Great Patriotic War (9.05.2020).
Video: https://www.youtube.com/watch?v=fc4kE6wqQCg&feature=emb_title
https://www.vpk.gov.by/news/comm_news/samokhodnyy-robotizirovannyy-kompleks-berserk-uchastnik-trekh-paradov.html