"POLONEZ" TO BE EQUIPPED WITH ROCKET OF 300 KM RANGE
26.02.2018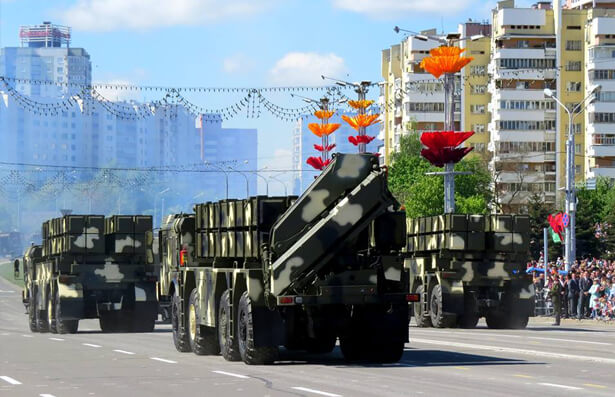 "Polonez" Multiple Launch Rocket System adopted by the Belarusian Army will be equipped with rockets of 300 km range. Minister of Defence Lieutenant General Andrei Ravkov confirmed this in the interview to news program "Kontury" shown by TV-channel ONT on February 25.
"We have "Polonez" System. And the aspect of its range shall be developed and upgraded, namely the system will be equipped with rockets of 300 km range", said the head of the Ministry of Defense.
Now "Polonez" Systems are armed with rockets of 200 km range. The rocket of 300 km range was created by RMUE "Precise Electro-Mechanics Plant" in Dzerzhinsk and tested in the territory of Belarus in October 2017. This MLRS was adopted by the Belarusian Army in 2016.
Besides, Mr. Ravkov noted that in 2018 it is planned to continue "developing arms and vehicles" for Special Forces and Mechanized Troops in respect to light armored vehicles, "developing electronic equipment"  in respect to purchase of Russian and Belarusian radars, "developing reconnaissance and EW equipment, UAVs". "But, naturally, the most important component is command capabilities, command and control system", Minister added.
According to his statement, this year they are going to purchase four combat & training Yak-130. "We will implement the contract pertaining to Su-30. We need this aircraft to accomplish combat alert and point-defense missions. This is a bomber, fighter and attack aircraft at the same time", Mr. Ravkov said.
We remind that during press conference on February 14, the Minister of Defense stated that Russia is not capable to deliver Su-30SM to Belarus, as some of its parts are produced abroad and are banned for the supply to Russia. The Russians promise that in 2019 the aircraft will be completely of Russian manufacture, therefore the deliveries can start.
The fact that the contract for the supply of twelve Su-30SM to Belarus had been signed became known on June 20, 2017. That was also when Mr. Ravkov informed the reporters that the contract would be effective, as soon as the funding started.