NEWEST BELARUSIAN ARMAMENT ON DISPLAY IN MINSK
02.02.2018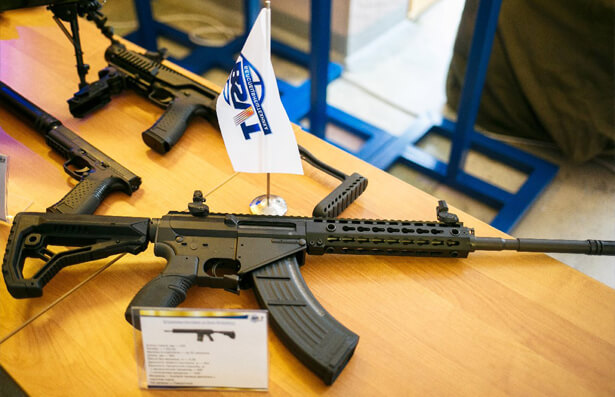 This Wednesday, a meeting of the Collegium of State Military Industrial Committee of the Republic of Belarus took place in Minsk. The event was held behind closed doors, yet the press was granted an opportunity to attend a small showcase of Goscomvoyenprom's latest products.
Steel-clad Sentinel
Design Bureau "Display" has created a sentinel that feels neither fatigue nor fear. It's a remotely controlled robotized platform armed with a 5.45-mm AKS (AKM) assault rifle. Its aiming capabilities are enhanced with a camera that transfers imaging to the control panel.
A company representative assured that per customer's request the robot can be equipped with infrared illumination, allowing for its operation at night time.
The Belarusian sentinel is quite light, weighing just 16 kg. It has a wireless control panel, which means the operator can be located anywhere within a 500 m radius from the platform. Target acquisition is performed smoothly with no snaps, thus increasing fire accuracy. The sentinel can operate at temperatures as low as -40ºC.
The robot can be used in a variety of ways. It can help ensure safety of a protected object, draw fire, impede enemy's advance, be a part of an ambush, block probable paths of enemy's retreat.
"Polonez" with Belarusian Missile
Belarusian MLRS "Polonez" is being continuously upgraded, it's scheduled for trials this year. According to the developers, the new "Polonez-M" has seen increase in both range and precision of fire. Last year the system proved its ability to engage targets within a 299-km range.
It's worth reminding that MLRS "Polonez" is designed to engage manpower, both sheltered and located in the open, as well as armored and unarmored vehicles and artillery. The "Polonez" system has eight square pods for missiles.
A large chunk of information about the system remains classified. It's known, however, that "Polonez" uses 301-mm missiles with length exceeding 7 m. The stabilizers' span is 0.62 m.
The missile's deviation from the aiming point at max range is no more than 30 m. When put together with the system's other advantages, this kind of accuracy ensures solution of numerous combat tasks usually assigned to operation-tactical missile systems and bomber aircraft.
"Buk", Belarusian Style
The Belarusian Armed Forces require a reliable mid-range air defense system able to provide protection of columns on the march. "Buk-MB" can be interfaced with any types of modern automated control systems and digital radars.
When paired with autonomous 3D phased-array solid-state "Radar-50", "Buk-MB" can engage airborne targets equipped with stealth technology.
Application of new technical solutions has led to a 30% increase in "Buk-MB" target detection range, as well as enhancement of its ability to suppress active and passive jamming.
These systems are scheduled to be adopted by the Belarusian Armed Forces in the near future.
Air-to-Air Missiles with Belarusian Accent
Belarusian company "Belspetsvneshtechnika" has performed an upgrade of R-60 and R-73 missiles. The air-to-air missiles are used by all Soviet and Russian fighter aircraft. Belarusian specialists have developed an upgrade program that significantly extends service life of the ammo and enhances its combat capabilities.
Belarusian R-60BM and R-73BM missiles can be launched not only from aircraft, but also from ground-based systems, which makes them a versatile means of air defense. By the way, using air-to-air missiles with ground-based air defense systems is a standard procedure. For instance, this is exactly how Israeli Spyder SR system operates.
The missiles have also received a new autopilot control unit with modern algorithms of missile homing, new proximity laser fuse that ensures reliable detonation of warhead in pre-determined area, new engine and other upgrades.
American Rifle for Soviet Ammo
The showcase also featured a lot of firearms, though press members received a firm "no comment" reply when they inquired for details about them. Among the exhibits, AR-15 assault rifle stood out. It uses a 7.62×39 Soviet/Russian cartridge considered third most powerful cartridge for assault rifles in the world.
The rifle is equipped with telescoping stock, Picatinny rail that allows for mounting of various aiming devices, convenient grip and magazine vaguely resembling that of an AK assault rifle.
The rifle also boasts side gas removal system that discharges gas through a cross-hole in the barrel with short piston stroke. This design is highly reliable and less sensitive to the quality of the ammunition as compared to the Stoner system in a classic AR-15. This solution makes a lot of sense considering the rifle uses 7.62×39 cartridges.
Weight of the rifle is 4.56 kg, barrel length – 406 mm, total length – 985 mm. The magazine is standard, it holds 30 cartridges. With optical sight mounted, the stated range of aimed fire is 1000 m.