NEW RUSSIAN FIGHTER JETS FOR BELARUSIAN ARMY AFTER 2020
20.10.2015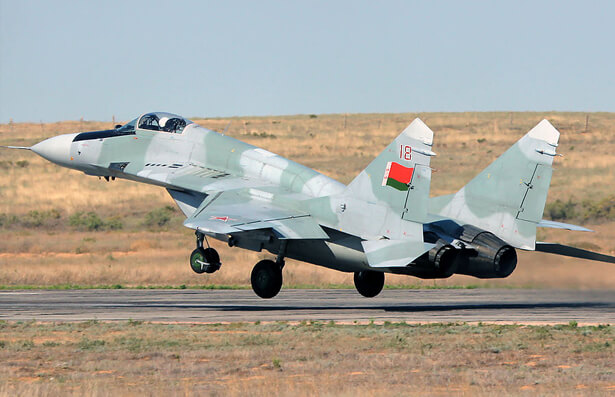 The Belarusian Defense Ministry intends to replace the MiG-29 fighter jets with Su-30SM after 2020, learned from Major-General Oleg Dvigalev, Chief of the Belarusian Air Force and Air Defense, on 20 October.
The official said: "Naturally the existing aviation fleet, particularly fighter jets MiG-29, is getting outdated. It is time to decide on replacing these aircraft. We are considering buying Su-30SM aircraft from Irkut Corporation. It may be done after 2020."
The Su-30SM jet fighter stems from the Su-37UB model. They are now used by the Russian Air Force and the Russian Navy. These aircraft can carry guided missiles, dumb bombs and other kinds of weapons. The crew comprises two people. The aircraft can fly as far as 3,000km, with the combat radius of 1,500km. The aircraft can stay in the air without refueling for 3.5 hours. Representatives of the Belarusian Air Force tested the aircraft during the air show MAKS 2015 and positively appreciated its qualities.
Oleg Dvigalev reminded that the Belarusian side had signed the contract to buy 12 Mi-8MTV-5 helicopters. He specified that six helicopters will be delivered in 2016 and another six will be delivered in 2017. Meanwhile, the Belarusian army continues repairing and modernizing the available hardware. For instance, a military transport aircraft IL-76 is now being repaired in Ryazan.
The multipurpose helicopter Mi-8MTV-5 represents a profoundly modernized variant of the Mi-8MTV-1 helicopter. The new vehicle can airlift army units at any time of the day and night while providing aerial cover. The helicopter can mount 23mm cannons or can carry up to two tonnes of bombs. The cruising speed is 230kmph, with the flying range of 590km. The helicopter can carry up to four tonnes of cargo in the cabin and up to five tonnes as external loadout.
On 20 October the Chief of the Belarusian Air Force and Air Defense talked to representatives of Irkut Corporation and DOSAAF (a non-governmental organization that supports the army, aviation and the navy). In particular, Oleg Dvigalev noted that the Air Force is satisfied with the pilot training standards that DOSAAF flying schools provide. He underlined that the contract on delivering Yak-130 aircraft to Belarus had been signed thanks to the DOSAAF head.