National Security - 2022: what State Authority for Military Industry did show at the Exhibition
23.06.2022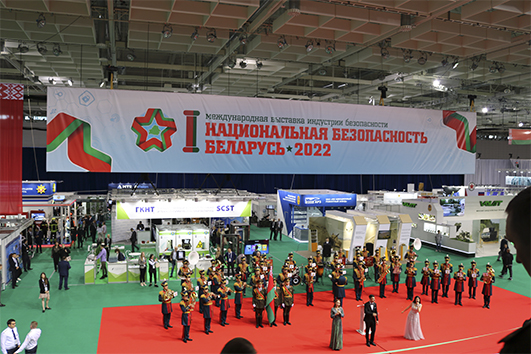 It is no coincidence that the first International Security Industry Exhibition "National Security. Belarus-2022" is held in the year that is declared in Belarus as the Year of Historical Memory and is timed to the Day of National Remembrance of the Victims of the Great Patriotic War.
This particularity of the beginning of the international forum was the keynote of the welcoming speeches of the Secretary of the State Security Council of the Republic of Belarus Mr. Alexander Volfovich, First Deputy Head of the Administration of the President of the Republic of Belarus Mr. Maksim Ryzhenkov and Secretary General of the Collective Security Treaty Organization Mr. Stanislav Zas at the opening of the exhibition.
The high-ranking officials in their speeches at the opening of the forum emphasized the complexity of the current geopolitical situation in the world, which in many ways resembles the situation just before the Second World War, and therefore the issues of national security for the states that want to live in peace and aim to establish a just world order, assume special significance.
Among the wide range of areas to ensure national security, the creation of weapons, military and special equipment can be justifiably noted as a priority
11 organizations, representing the State Authority for Military Industry at the international exhibition forum, demonstrated 77 items of their products on outdoor and indoor demonstration sites.
Among the 14 exhibitors representing various defence and law enforcement agencies and demonstrating their products at the outdoor exposition - 6 represent the armament industry.
Open Joint Stock Companies "MNIPI", "558 Aircraft Repair Plant", "140 Repair plan", "Minsk Wheel Tractor Plant", "KB Radar –"Radar Systems" Holding and "AGAT-Electromechanical Plant" demonstrated to guests on the outdoor area of the exhibition 21 products, including: mobile information center on a minibus chassis;
UAV-70 "Lovchy" unmanned aerial vehicles with mockups of aerial weapons and UAV-25 "Chekan"; armored and protected vehicles "Cayman" and "Defender", a firefighting complex based on MT-LBu chassis; a special tractor MZKT-741501 and an armored personnel carrier "V2" (MZKT-690003); "Groza-S" counter-drone electronic warfare station on Mercedes Sprinter base, mobile system of counteraction to small unmanned aerial vehicles "GROZA-Z1-JM" on Toyota Hilux base, "Groza-Z2" counter-multicopter system, designed to protect stationary objects; "Cuirass-M" narrow-base multilateration system for UAV detection and 3D positioning and recognition; special vehicles of the "Rubezh" assault and barrier complexes, an assault ramp.
A number of samples of weapons, military and special equipment presented at the outdoor exposition have been adopted by the armed forces and are successfully operating, while others are undergoing a cycle of testing activities in order to improve the technical characteristics declared by the customers.