SFTUE "BELSPETSVNESHTECHNIKA" PARTICIPATED IN INTERNATIONAL WEAPONS AND MILITARY EQUIPMENT EXPO & FORUM INDODEFENCE 2014 (JAKARTA, INDONESIA)
21.11.2014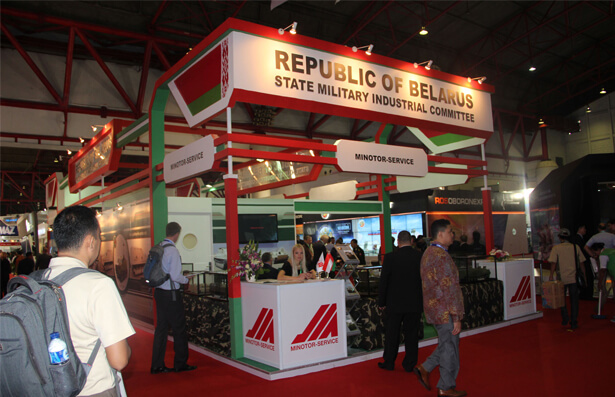 The leading 6th International Tri-Service Defence Expo & Forum of the IndonesianArmed Forces -INDO DEFENCE EXPO & FORUM 2014 took place from5 - 8 November 2014 in Jakarta (Indonesia). More than 650 companies from 51 countries of the world took part in it. The exhibition was initiated and supported by the Ministry of Defence of Indonesia. The organizational partner was PT Napindo Media Ashatama.
The official delegation of the State Military Industrial Committee of the Republic of Belarus at INDO DEFENCE EXPO & FORUM 2014 was led by Mr. Oleg Morozov, SMIC Deputy Chairman.
The joint organizer and main exhibitor of the Belarusian joint stand at the show was SFTUE "Belspetsvneshtechnika". In the pavilion,natural samples of optical sights of various types, observation devices, ADUNOK automatic remote controlled weapon station, BMP-3 gunner's simulator, as well as posters showing the possibility of supply of weapons and military equipment and special-purpose equipment by the enterprise were presented.
Such enterprises as JSC "MWTP", JLLC "Virtual Technologies",UE "Minotor-service", JSC KB Display", JSC "KB Radar", andJSC "Alevkurp"also represented the National Belarusian pavilion. These organizations presented the latest developments in the field of automated control systems of anti-aircraft missile and electronic units, radioelectronic warfare and air forces units, showed mock-ups of different samples of military equipment, as well as presented information on the research and design work, design, development, production, modernization, repair and technical maintenance of weapons and military equipment.