GVTUP "Belspetsvneshtekhnika" took part in the 8th Asian International Exhibition and Conference on Defense and Security "Defense & Security-2017" (Bangkok, Kingdom of Thailand)
14.11.2017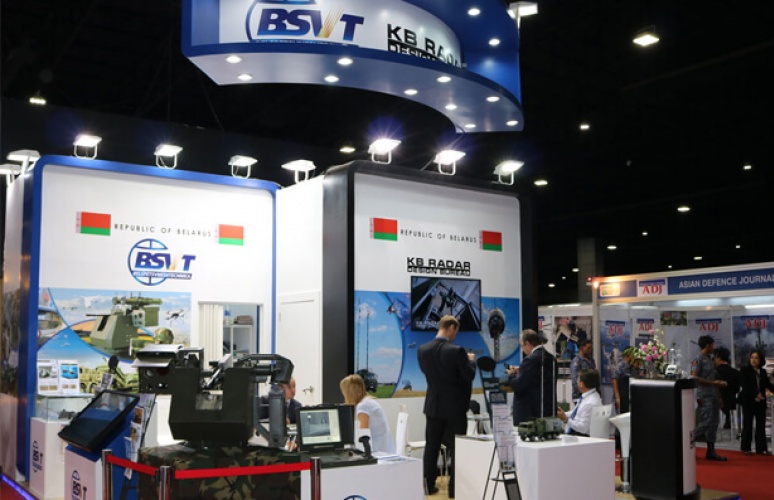 In the period from 6 to 9 November 2017. in Bangkok (Kingdom of Thailand) in the IMPACT Exhibition Center pavilion the 8th Asian International Defense and Security Exhibition and Conference "Defense & Security 2017" was held.
The exhibition is held once every two years under the patronage of the Government and the Ministry of Defense of the Kingdom of Thailand. The main organizers of Defense & Security 2017 included the Ministry of Defense of the Kingdom of Thailand, the Royal Thai Army, the Royal Thai Navy, the Royal Thai Air Force, the Royal Thai Police, the Center for Defense Industry and Energy, the Ministry of Foreign Affairs.
More than 400 enterprises from 50 countries of the world took part in the "Defense & Security-2017". The exhibition featured national pavilions of Belarus, Bulgaria, Great Britain, Germany, Israel, India, Indonesia, Italy, China, Korea, Malaysia, the United Arab Emirates, Pakistan, Russia, Serbia, Singapore, USA, Thailand, Turkey, Ukraine, France, the Czech Republic, Switzerland, Sweden, South Africa and Japan. Along with 230 VIP delegations from more than 35 countries of the world, more than 20 thousand military specialists were registered at the exhibition.
The main subject of the exhibition is weapons and military equipment for the ground forces, navy and air force.
The "Defense & Security 2017" presented the latest technologies and equipment in the field of military security, access control and restriction systems, emergency support systems and facilities, fire extinguishing equipment, emergency evacuation equipment, the latest developments in the fight against terrorism and many another.

During the exhibition at the joint stand GVTUP "Belspetsvneshtekhnika" and OJSC "CB" Radar "presented the following exhibits: 
- automated remote-controlled observant fire complex "Adunok"; 
- thermal imaging sight "PUMA-90", day-night sight "DDN-120-6XD / N", night sight "PUMA-2X"; 
- the layout of the products "Thunderstorm", "Groza-S", the layout of the product "Rosa RB", the layout of the product "Vostok 3D".

For a more complete coverage of the scope of activities and supply opportunities of the military-industrial complex of the Republic of Belarus of weapons and military equipment and special-purpose equipment, illustrated advertising materials (catalogs, booklets, leaflets, as well as electronic presentations on flash cards) were distributed to interested parties.
The joint stand of GVTUP "Belspetsvneshtekhnika" and OJSC "Radar" CB was visited by more than 40 foreign delegations from various countries, including official delegations from the Kingdom of Thailand, Vietnam, Myanmar, Indonesia, the Philippines and other countries of the region.
A number of bilateral meetings were held, during which presentations of new models of equipment and weapons of Belarusian enterprises were presented. The sides expressed interest in developing mutually beneficial bilateral cooperation in the most promising areas of military-technical cooperation.