SFTUE "Belspetsvneshtechnika" Takes Part In 15th International Defense Industry Exhibition and Conference IDEX-2021 (Abu Dhabi, UAE)
22.02.2021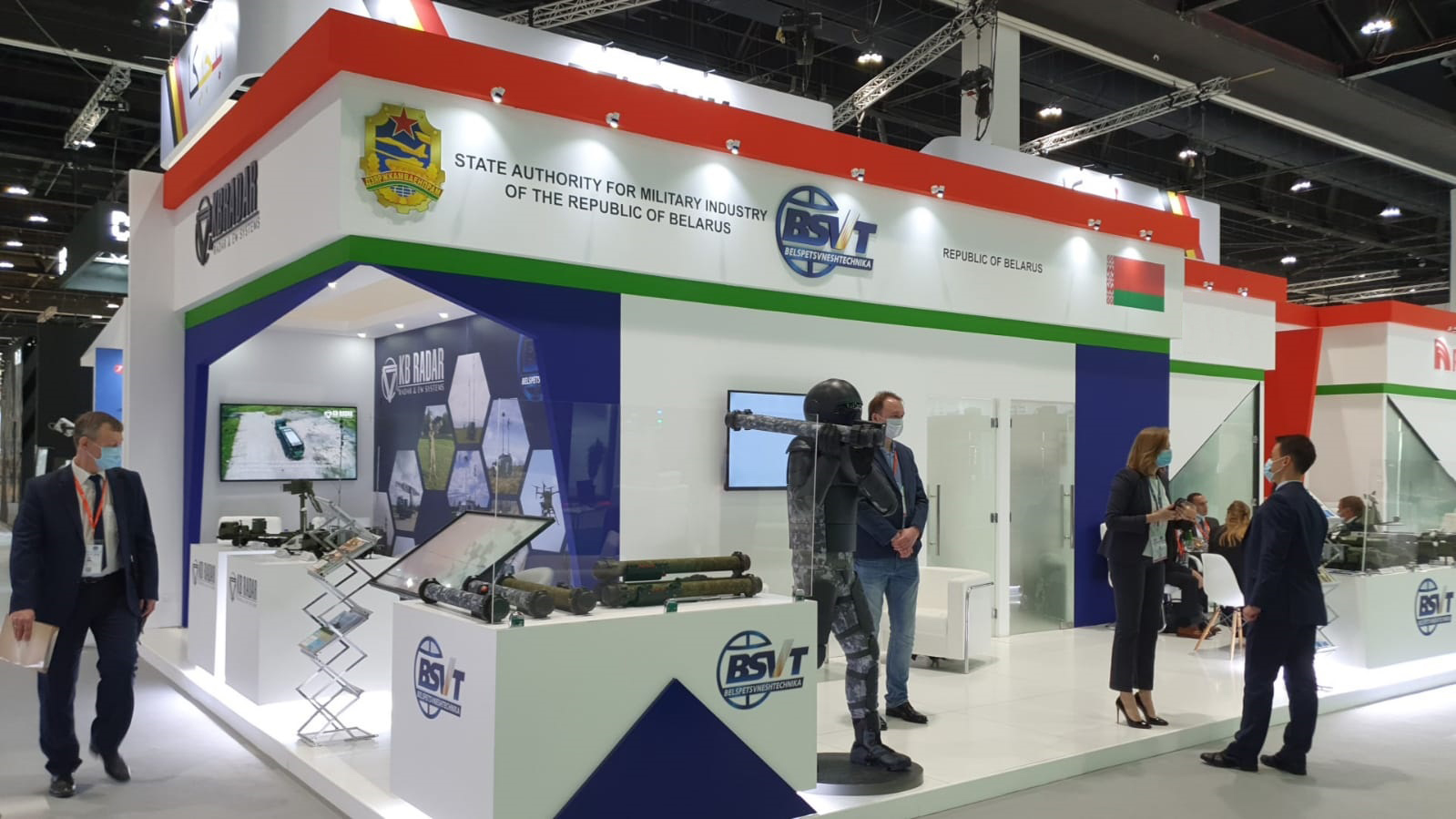 Within February 21-25, 2021, the capital of the United Arab Emirates Abu Dhabi is hosting the 15th international exhibition IDEX-2021 in ADNEC International Center. This event is one of the broadest and most representative armament exhibitions in the Middle East. This year, it engages more than 900 exhibitors from 59 countries in 35 exhibition halls.
Belarusian delegation comprised of 10 enterprises is headed by Dmitri Pantus, Minister of the State Authority for Military Industry (SAMI) of the Republic of Belarus.
At this exhibition, SFTUE "Belspetsvneshtechnika" is acting as a coordinator of the SAMI joint stand.
SFTUE "Belspetsvneshtechnika" is co-exhibiting with JSC "AGAT – Control Systems", JSC "KB Radar", JSC "KB Display", JSC "Peleng", JSC "140 Repair Plant", BelOMO Holding etc.
The joint stand features the following range of Belarusian defense products:
1. SFTUE "Belspetsvneshtechnika": mockups of S-125 Pechora-2BM ADMS, Shilka Self-Propelled Anti-Aircraft Gun, Strela-10 ADMS; mockup of Sapphire Grenade Launcher, mockup of a command-and-staff vehicle.
2. JSC "140 Repair Plant": mockups of vehicles Zaschitnik, BREM, Cayman armored vehicle and fire-fighting vehicle on T-72 chassis.
3. BelOMO Holding and LEMT Scientific & Technical Center: samples of optical products.
4. JSC "AGAT – Control Systems": mockup of Horizont tropospheric communication station, exhibition sample of Bogatyr-2 item.
5. JSC "Peleng": commander's sight equipment for combat & reconnaissance panoramic module, optronic module, optronic detection & sighting system, multichannel gunner's sight, panoramic combined sight, optronic unit, Sych-S aircraft computer vision system, AMK-01 automated weather & ballistic system.
6. JSC "KB Radar": mockups of Vostok-3D radar, Rosa-RB low-altitude radar, Groza-6 UHF/VHF jammer, Groza-S counter-UAV electronic warfare station on Ford Transit vehicle.
7. JSC "KB Display": lightweight combat module with control unit.
For our country, IDEX-2021 exhibition is a hallmark of Belarusian military products. This event embraces a comprehensive business program: showcase of the newest military technologies and developments, negotiations and discussions, exchange of views. This platform will promote international military-technical cooperation and will provide the impetus for the development of new military solutions and enhancement of scientific basis for strengthening the security and defense capabilities of the Republic of Belarus.
Link to the video "Контуры": https://youtu.be/ruLOt1UaiYM?t=114