SFTUE "Belspetsvneshtechnika" will showcase a reconnaissance and warning system at MILEX-2021 exhibition
21.05.2021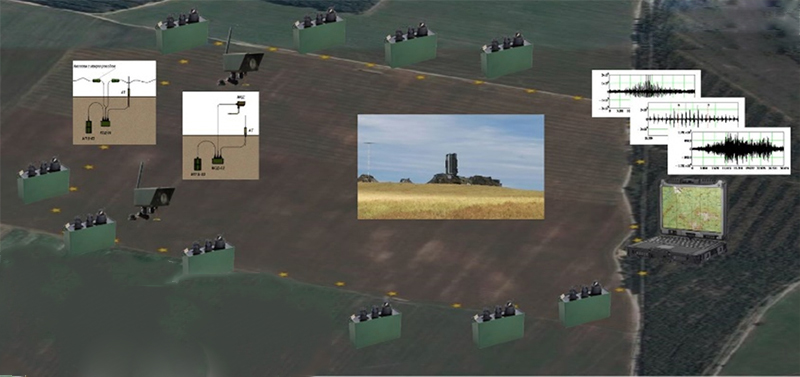 SFTUE "Belspetsvneshtechnika" will showcase a reconnaissance and warning system at 10th International Exhibition of Arms and Military Machinery MILEX-2021 which will be held on June 23-26, 2021.
The system is an early warning asset designed for perimeter guarding. It represents a mobile rapidly deployable self-contained wireless warning system. Its operating principle is based on a wide use of highly sensitive seismoacoustic, photo and infrared sensors jointly with other monitoring assets. The system can be deployed on unprepared terrain using minimal human resource, and doesn't require special auxiliary equipment.
Distinctive feature of the system is its compliance with modern design principles of information systems, and the use of ergonomic configuration and control interfaces, which allows providing high effectiveness of the system application.
The system is currently under upgrade, which involves functionality extension and capabilities enhancement due to the application of additional high-tech equipment (air and ground-based drones, mobile control post, optronic reconnaissance drogue-chute system etc.).
System performance:
Intruder recognition range (detection probability 0.98) – human – 100 m, animal (hoofed) – 100 m, car – 300 m.
System weight – 120 kg.
Deployment time – 4 hours.
Maximum perimeter protected by 1 system – 3500 m at maximum distance of control post – 1.5 km, with signals re-broadcasting – 50 km.
Standalone operation time – up to 3 months.
Operating temperature – from -40ºС to +50ºС.
Moisture and dust-proof standard – IP68.
Since 2020, the system is launched in serial production in the Republic of Belarus, and sold to the countries of near and far abroad.