State Authority for Military Industry at "ARMY-2022" Forum. Day two, day three: interaction activity increases
17.08.2022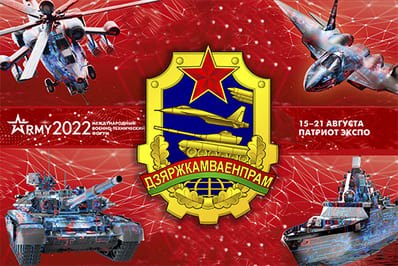 The second day of the International Military-Technical Forum "Army-2022" was particularly intense for representatives of the Belarusian Defense Industry.
The Minister of the State Authority for Military Industry Dmitry Pantus held meetings and negotiations with General Director of JSC Kalashnikov Concern Vladimir Lepin, General Manager of JSC "NASC "Alexey Aleshin, directors of JSC " Technodynamics ", heads of delegations of the People's Republic of China and a number of other countries.
On August 17, on the next, third day of the Belarusian delegation stay at the International Forum "Army-2022" planned activities for the further development of mutually beneficial military-technical cooperation continued.
The head of the delegation – Chairman of the State Authority for Military Industry Dmitry Pantus held talks with Russian colleagues: Director of the Russian Federal Service for Military-Technical Cooperation Dmitry Shugaev, General Director of JSC "Rosoboronexport" Alexander Mikheev, CEO of JSC "Kronstadt" Oleg Shilov, top managers of JSC "Russian Helicopters", JSC" Concern EKR "Almaz-Antey".
On the same day the head of Belarusian Military Industry met the leaders of the Military Industry Corporation of Sudan.
During these meetings, the parties discussed the implementation of existing contracts, promising projects of cooperation in the military-technical field, and also created the algorithms for further interaction in the conditions prevailing in the world.
During the talks, the partners showed their interest in the development of cooperation with defense industry enterprises in various fields, and for the benefit of the third countries.
https://vpk.gov.by/news/comm_news/na-forume-armiya-2022-den-vtoroy-aktivnost-i-rezultativnost-vzaimodeystviya-narastaet.html
https://vpk.gov.by/news/comm_news/goskomvoenprom-na-forume-armiya-2022-den-tretiy-aktivnost-vzaimodeystviya-ne-spadaet.html