Head of the State Authority for Military Industry participated in the opening of the "BELARUSEXPO" exhibition in the Chechen Republic
01.08.2022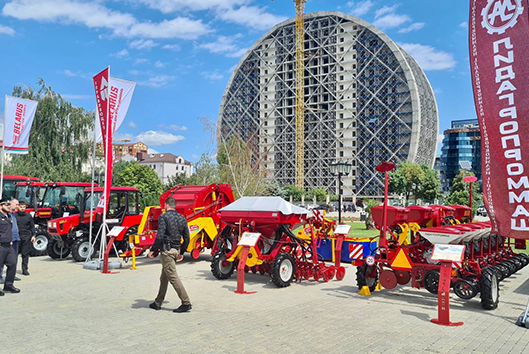 On July 28, 2022, the head of the Belarusian delegation, Minister of the State Authority for Military Industry (SAMI) Dmitry Pantus took part in the opening of the "Belarus Expo" exhibition in the Chechen Republic.

The exhibition is organised and held in accordance with the plan of actions for the implementation of the agreement between the governments of the Republic of Belarus and the Chechen Republic (Russian Federation) on trade, economic, scientific, technical and cultural cooperation for 2022 – 2023.
SAMI Minister is the head of the Belarusian national part of the Working Group responsible for trade and economic cooperation with the Chechen Republic, its sphere of competence includes the entire range of cooperation areas between Belarus and Chechnya.
Speaking at the solemn opening ceremony of the exhibition in Grozny together with Khasan Khakimov, Deputy Prime Minister of the Chechen Republic, and Adam Khakimov, Minister of Industry and Energy of the region, Dmitry Pantus said
"You will see the products of 29 Belarusian leading enterprises representing the machine-building complex and light industry of our country.
We believe that it will make a favourable impression on you, and subsequently, based on mutual interests, we will be able to expand the range of areas of our cooperation and the number of exhibiting organisations.
Many product samples, which will be showcased today, have already found their recognition not only in Belarus, but also abroad. Some of them are legitimately recognised global brands.
Getting acquainted with our products, you will be able to assess the main trends and prospects for the development of the Belarusian economy and to note the growth of the scientific, technical, production and technological potential of Belarus."
At the end of his speech, the head of the Belarusian delegation wished the participants and guests of the exhibition effective work, fruitful business contacts and the development of mutually beneficial cooperation, and wished the visitors vivid impressions and a genuine desire to keep coming back to the exhibition grounds.
https://vpk.gov.by/news/comm_news/glava-goskomvoenproma-prinyal-uchastie-v-otkrytii-vystavki-belarus-ekspo-v-chechenskoy-respublike.html