FOR THE FIRST TIME THE BELARUSIAN MILITARY HAVE PRACTICED AN-26 LANDING ON HIGHWAY
25.09.2015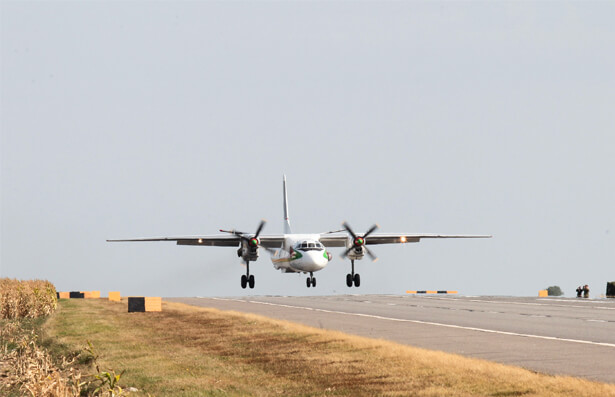 On September 23rd the Belarusian military for the first time practiced landing of military-transport aircraft An-26 on highway strip.
The aircraft landed on M1 highway (Brest-border with the Russian Federation) close to Dzerzhinsk city.
The Belarusian military have already practiced numerous aircraft landing on military routes. However, earlier only fighters and attack aircraft practiced this type of landing, not military-transport aircraft. One fighter MiG-29 and two attack aircraft Su-25 also landed on M1 highway.    
According to the representatives of the Ministry of Defense it is very difficult to land aircraft on highway, as the highway is not equipped with any navigation system,  like airfield for instance. That is way this kind of training plays a key role in pilot's skills improvement. At the same time this type of training helps to attain psychological readiness to fulfill the tasks on air fleet dispersion.
Together with Air Forces other services also participated in the event. Significant preparation  work was performed in order to land aircraft  on highway strip. In particular, various equipment and posts which are located close to the highway were correspondently marked as well as interaction with the local authorities was arranged.    
Current year training has a distinct feature – observers, who are the representatives of  the People's Liberation Army of China.   
Starting since 2007 certain sections of highway in Belarus have been used as reserve airfield. On April 14th, 2007  for the first time in the history of Air Forces and Air Defense of Belarus two attack aircraft Su-25UB landed on highway. Some months later, in summer, MiG-29 and Su-27 also landed on the highway.