BELARUSIAN AIR FORCE TO GET FOUR COMBAT TRAINING AIRCRAFT IN Q1 2015
16.10.2014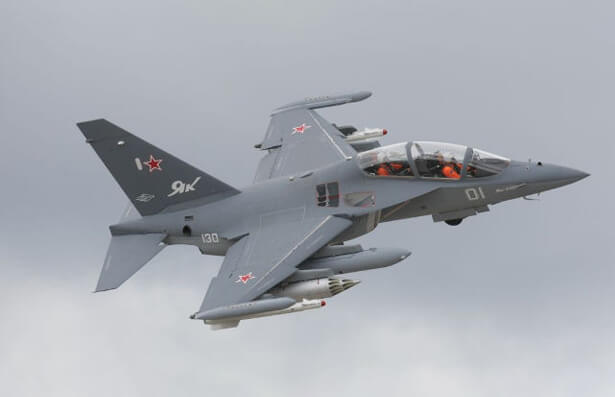 Four Yak-130 aircraft will be commissioned by the Belarusian Air Force in Q1 2015, learned from Major-General Oleg Dvigalev, Air Force and Air Defense Commander.
"We are about to begin the practical implementation of the contract to buy Yak-130 combat training aircraft for the Air Force. Four aircraft are expected to be delivered to Belarus in Q1 2015 and we will begin using them," said Oleg Dvigalev.
According to the source, in January 2015 Belarusian pilots and the technicians, who will service the aircraft, will go to Russia for training. "Apart from that, in 2015 we will continue buying modernized hardware, primarily electronic intelligence stations," added the Major-General.
The Belarusian Defense Ministry and OAO Irkut Corporation signed the contract for the delivery of four combat training aircraft Yak-130 in Minsk on 18 December 2012 as part of the implementation of the Belarus-Russia agreement on the development of military and technical cooperation. Belarus is the first CIS state to buy these aircraft.
The two-seat aircraft Yak-130 is designed to offer basic and advanced training for frontline pilots. The aircraft boasts outstanding maneuverability and modern onboard radio equipment and electronics, which state-of-the-art combat aircraft use. The aircraft also has increased reliability and a long service life. Yak-130 is the world's only training aircraft that can boast the aerodynamic configuration and subsonic flight performance matching those of modern fighter jets. The aircraft can carry up to 3,000kg of combat payload (guided and unguided missiles and bombs, cannons and so on) using nine external suspensions.