15th International Maritime and Aerospace Exhibition LIMA - 2019 (Malaysia, Langkawi)
27.03.2019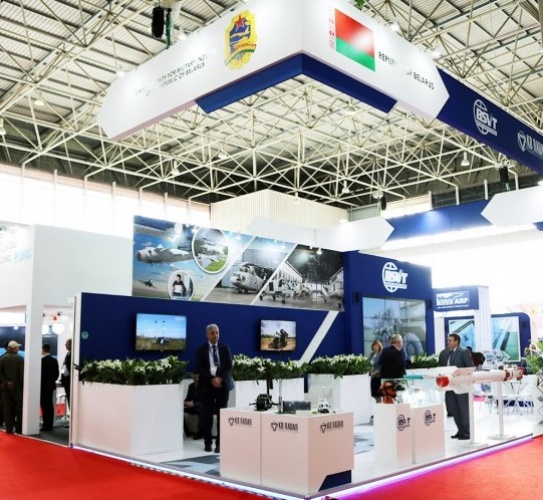 Within the period from March 26th until March 30th 2019, 15th International Maritime and Aerospace Exhibition LIMA - 2019 - one of the largest events in the Southeast Asia and Asia-Pacific region – took place in Malaysia. Over the 28 years of its history, this exhibition gained the reputation of one of the best events in its field in the Asia-Pacific. This biennial expo is held at the initiative of the Malaysian Government and with the extensive support of the Ministry of Defense.
This year, over 350 companies including more than 170 foreign companies from 30 countries are participating in the exhibition. About 400 official delegations from 46 countries are expected to take part in the expo. Various seminars and forums are held under the aegis of the event.
13 countries featured their national pavilions – Australia, Belarus, United Kingdom, Germany, Italy, China, Korea, Malaysia, Russia, USA, Turkey, France and Japan.
At this Malaysian arms forum, Republic of Belarus presented the joint stand of the State Authority for Military Industry comprised of SFTUE "Belspetsvneshtechnika", JSC "558 Aircraft Repair Plant", JSC "KB Radar" (managing company of "Radar Systems" holding), JSC "Orsha Aircraft Repair Plant". Belarusian delegation at LIMA-2019 is headed by Mr. Alexei Skraga, General Director of SFTUE "Belspetsvneshtechnika".
Belarusian enterprises exhibit armament and military equipment, which are most demanded in this region.
The stands feature modern defense technologies and capabilities of the State Authority for Military Industry companies in the field of development, manufacture and upgrade of fire destruction means (including Belarusian grenade-launching system "Saphir", upgrade capabilities for R-73 air-to-air aircraft guided missiles), development & manufacture capabilities in the field of automation means systems, modern radar equipment, EW jamming and counter-UAV systems, as well as capabilities of aircraft repair & upgrade, manufacturing and supply of coast guard airborne systems, manufacturing and supply of UAV systems and Satellite-2M active jammer, in-depth upgrade of Air Defense missile systems ("Pechora-2BM", "Trio", "Kvadrat" etc).
Belarusian exposition also features advertising materials that demonstrate capabilities of Belarusian defense sector in supplying armament, military & special-purpose equipment.
High-level negotiations were held with Deputy Defense Minister of Malaysia, Chief of Malaysian Army, Deputy Defense Minister of Philippines, Commander of Indonesian Air Force.
Belarusian exposition was introduced to heads of foreign Ministries and official authorities, including Commander of Royal Brunei Air Force, Commander of Lao People's Armed Forces, representatives of Commander of Royal Saudi Air Forces, representatives of Ministries of Defense of Vietnam and Japan.